Featured Client Success Story
In an effort to share many great success stories, and as a thank you to our clients, we will feature a client profile on our website every month. These profiles consist of a brief bio-testimonial and a short photography session; all completed by Janine Domingues-Vasquez, an amazing local photographer and writer who will help us with this initiative. We will announce each featured client on social media with a link to our page and theirs. Stay tuned!
Ryan Walsh, Founder & Owner
Capital City Groundskeeping is a Raleigh-based company that operates six days a week throughout Wake County and beyond with up to 10 people. But that wasn't always the case.
Founder and owner Ryan Walsh started mowing lawns while still in high school back in 2000. The young entrepreneur says he started because he "wanted to work, make money, and enjoy the independence it brought". At NCSU he majored in Turf and Grass Science which boosted his knowledge in landscaping and where he learned both the functional and ornamental characteristics of different grasses. Ryan worked through college expanding his portfolio. He graduated in 2013 and then the company, which he self-financed, really started growing.
Even though Ryan had the support of his parents, he spent his days working with grass and mulch and his evenings with paperwork. Through a family connection, Ryan met Patricia Villa of CSFAS and things started to turn around.
Patricia and her team put all his accounts in order, brought his QuickBooks file up to current and corrected the tax errors they found. They've been working together for three years and Ryan says, "the CSFAS team is trustworthy and fair."
The team provides monthly financial reports and forecasting, help manage payroll and handle all annual tax filings. Ryan says that having "accurate financial records allows for good decision-making on equipment purchases, hiring, and expansion." All this has freed up at least 10 hours a week for Ryan allowing him to focus on bidding on new contracts and managing the business.
Since its beginning 20 years ago, Walsh and his team have expanded from mowing lawns to providing all maintenance services including hedge trimming, plant installs, sodding, some flowerbed and mulch installations, for mostly commercial businesses. Ryan counts the PNC Arena, several homeowners associations, and the largest cemetery in Raleigh as some of his clients.
His goal for the next year is to grow the company by building more work crews and to move from doing the physical work himself to networking, relationship-building, and management.
To learn more about Ryan and Capital City Groundskeeping, visit www.capitalcitygroundskeeping.com.
Capital City Groundskeeping's accounting team at CSFAS: Vickie & Patricia

More Client Success Stories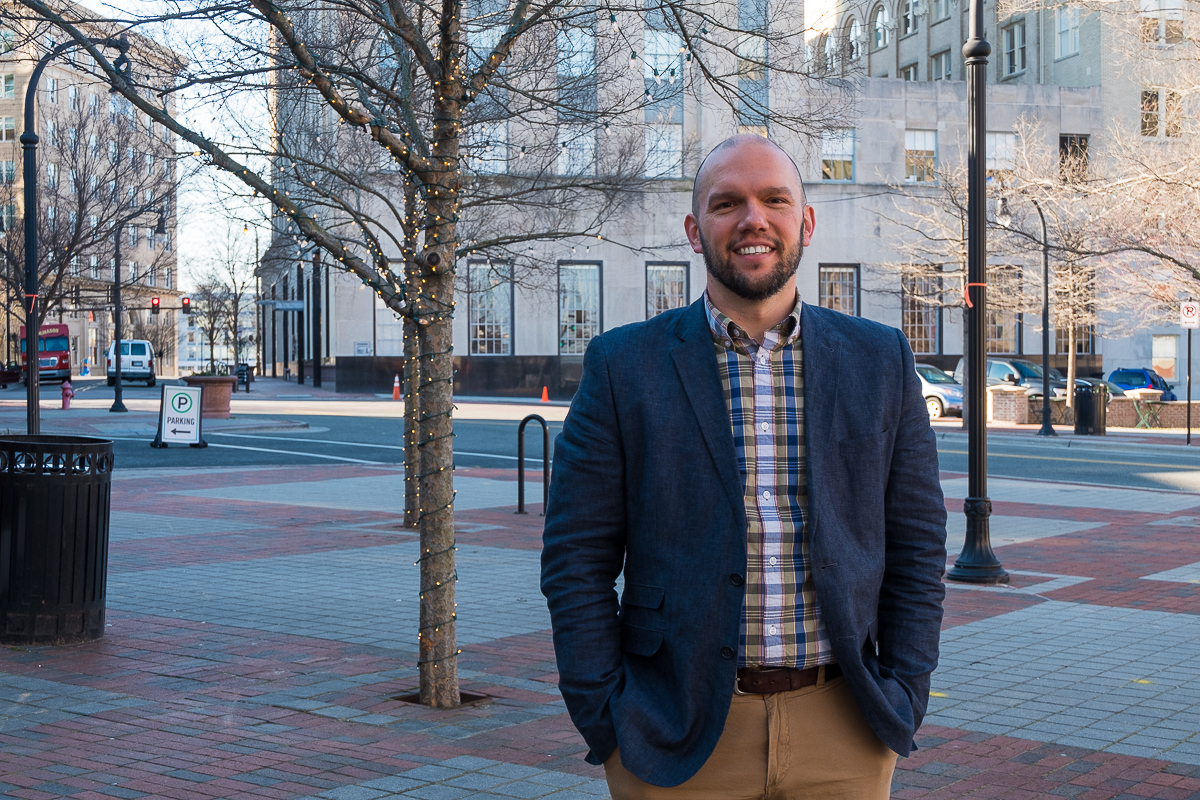 Jonathan Thommarson, General Manager
Home Instead Senior Care, located in Durham, is part of a multinational network of franchises specializing in non-medical in-home care for the elderly, in support of aging in place. Jonathan Thommarson, a graduate of The University of North Carolina at Charlotte, moved to Durham three years ago to take on the role of General Manager. His parents, Dave and Bonnie Thommarson opened the Durham County franchise in 2005. The business administration major says, "Every day is different."
The family-run business makes senior care personal. What sets Home Instead apart from similar services is their high regard for both clients and caregivers. Jonathan says, " We treat caregivers and clients like family. Most people don't look into senior care until they need it. We are able to give the family caregiver some time to breathe." Caregivers alleviate a bit some of responsibility of making sure that seniors have company and are in safe hands. Caregivers can complete a variety of non-medical tasks such as light meal prep and housekeeping, hands-on personal care, and driving.
Jonathan brought the CSFAS team on board in July of 2018. Jonathan says, "The team made me feel very comfortable. They came in and learned everything in two weeks." The CSFAS team is fast and efficient. Their tasks include: auditing client billing and accounts receivable, making payroll entries and completing account reconciliations. CSFAS makes sure financial reports are accurate and completed timely for Home Instead to achieve internal reporting requirements on time. With clean financial records Jonathan makes informed decisions quickly, allowing him to focus on his duties as general manager.
To learn more about Home Instead Senior Care visit: https://www.homeinstead.com.
Home Instead's accounting team at CSFAS: Rajini & Patricia
Talitha Benjamin & Scott Richie
Talitha Benjamin and Scott Richie are partners in life and in business.
A little over two years ago they opened the Accordion Club located at 316 W. Geer Street in Durham. It happened very suddenly: Scott was walking home one day when he saw a "For Lease" sign and decided to take a look. It wasn't long before he and Talitha were planning how they would make the Accordion Club the local bar they had been wanting in their own neighborhood (the couple live within walking distance of the bar). Scott got to work on demolition, building the bar, and doing nearly everything except the plumbing, electric, and HVAC. When developing the menu Talitha and Scott kept their potential customers in mind, knowing that Durham consumers are well-educated about food and drink and they like to eat when they drink. Drawing inspiration from Santa Fe, New Mexico, where Talitha spent many summers, she decided on a breakfast burrito with green hatch chiles and hot dogs with toppings such as kimchi, nacho cheese, and spicy green chili as a staple for the bar menu.
Talitha, who has a background in bookkeeping, balanced the books for one year. However, when they switched their point of sale (POS) service there was an unexpected glitch. She found herself spending too much time confirming that the numbers were correct and so she opted to explore professional accounting firms. After meeting with Patricia Villa, Talitha knew that she wanted to work with her. Patricia understood the problem with POS glitch and how to fix it, and she was kind too. During a stressful family transition, Talitha says "Patricia was patient, understanding, and non-judgemental," which the couple appreciates. And Patricia took the time to help Talitha understand tax and corporate accounting. Patricia and the CSFAS team have been working for Talitha and Scott for nearly eight months. In this time they have freed up at least 20 hours per month of Talitha's time. Time that she can spend reading their clean financial records and planning for her future with Scott. To learn more about Accordion Club visit: https://www.instagram.com/accordionclub/.
Accordion Club's accounting team at CSFAS: Patricia & Vickie
Ben Quinn, Growth Strategist
In 2008 he began working with Carole Scotto, MBA, and president of CSFAS. Carole and her team assist Ben with tax and financial planning, bookkeeping, and accounting. Ben says "Carole has the ability to look at the business as a whole and make suggestions." He continues "bookkeeping and accounting can be time-consuming "with CSFAS I can let the experts be experts." Ben says "the flat fee makes working with CSFAS is a consistent investment in my business and my future".
In 2014 he began his first real estate projects as a small business investor and real estate entrepreneur. His portfolio has grown to include new construction, historic restorations, commercial rentals, and land development.
Ben offers the following advice for anyone starting a business: Who you choose to partner with is very important. Don't work with people who cut corners or don't know their craft. Your professional team must be experienced and trustworthy to make sure you are moving in the right direction with a strong foundation. Here, Ben takes his own advice, "with CSFAS there is no concern that I'll outgrow them; they do everything I need." Carole, Patricia and the rest of the CSFAS team is exactly the type of partner he recommends. For example, clean financial records are important to any industry but the real estate development industry is transactional. The possibility of an audit creates a strong need for correct numbers. As a business advisor and real estate entrepreneur Ben has many partners, vendors, and many moving parts. Carole and her team can handle the complexities of the construction and real estate business transactions. He also feels comfortable knowing that someone at CSFAS is always available and knowledgeable of his unique situation. Ben says, "I really enjoy working with CSFAS. They are trustworthy, knowledgeable, kind, and fun people." To learn more, visit http://www.farmblue.com.
Ben's accounting team at CSFAS: Carole & Lavone
Janet Lee's life changed in a yoga class. The Duke business school graduate took her instructor's gentle reminder to "do what you love and take care of your body" and turned it into her life's mission. The next day the food-lover gave her 30-day notice and planned her move from corporate sales and management into the restaurant industry. ZenFish Poké Bar in Durham was born. She knew she wanted to create a space full of love and inclusivity. Two values important to every aspect of Janet's life. "Do good. Eat well." is the ZenFish Poké Bar motto. Janet named her Signature Bowls after the values she holds dear: courageous, kindness, grateful, compassion, and veggie. Janet described some of her challenges as asking for help, delegating tasks, and finding funding. Since the beginning, she was used to doing all the financial tasks herself which ate up a lot of her time.
Working with CSFAS has allowed Janet to focus on the bigger picture. They are accommodating, responsive, trustworthy, and dependable. "If it weren't for this accounting team, I wouldn't be able to expand to a second location," says Janet. For Janet, having clean financial records means knowledge and good decision-making. CSFAS helps ensure that the financials are healthy and running smoothly; handles all the monthly sales tax and analyzes where the business might be overspending. Patricia and her team are always willing to explain and teach, which Janet appreciates. "We want to keep the business profitable," says Janet. Fresh, local ingredients, a strong team, and balanced books are key ingredients for Janet's success. To learn more about Janet & Zenfish please visit http://www.zenfishpokebar.com/.
Janet's accounting team at CSFAS: Patricia & Rajini
Jeffrey L. Austin, Elder Law Attorney
Austin's small business is a one-man shop with support staff that help with operations, administration, and finance. Some challenges he faced at the start were creating a time management system, accounting and bookkeeping tasks, and administrative work. He spent two years doing most of the work himself but within two years Austin was introduced to Patricia Villa and CS Financial & Accounting Services Inc. (CSFAS) by a trusted local business owner. Austin hired the team for their knowledge, professionalism and high level of customer service. The CSFAS team provides support by overseeing client billing, managing time sheets, making bank deposits, and more. CSFAS advises Austin on taxes and business growth. Austin states, "Patricia and the CSFAS staff give me clean financial records that help me budget appropriately, do projections, and much more." Now he spends two hours every week reading his business financial reports and other tasks that only he can complete. The rest of his new-found time is now allotted towards big picture planning, self-learning, and client work. Austin says he appreciates "that Patricia and the entire team give such personalized attention, always make time for clients, and are so customer-focused." To learn more about Jeffrey and his work, please visit http://www.jeffaustinlaw.com/.
Jeff's accounting team at CSFAS: Patricia & Vickie